Where Art and Imagination Fuel the Mind
Calendar
Click on an event's title for more information.
Volunteer Marianne works with participant Marcia on her art project! Title: The HEARTFULLiving Café Date: Tuesday, November 20th Time: 3:45 pm: Refreshments Program: 4:15 pm Location: The Center for Artful Living, 26633 Detroit Road in Westlake.   Activity: Happy "Hug...
read more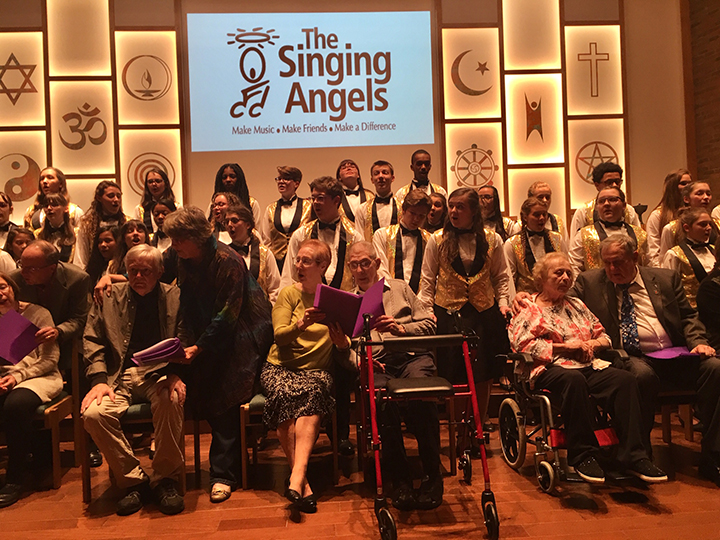 THANK YOU to all   of you who   attended our 2018 Celebration of   Care/ Charlie's   Angels Benefit!! It was a   great success! A   big thanks to   sponsors,   donors & volunteers!!   The concert was outstanding!! Our participants in concert with The Singing Angels...
read more
About Us
The Carolyn L. Farrell Foundation was established in 2011 when the Farrell Family saw a need in the community. In caring for Carol, wife and mother, we found that there are few activity based programs for people living at home with dementia/Alzheimer's. We wanted to bring programming to the community in order to help support people's treatment plan and management of their illness. Our programs are largely arts based and focus on multi-sensory elements. The human senses centered in the brain preserve abilities well into the disease process.
It is often assumed that people with dementia can not participate in daily life activities anymore, and that is not true. When we create activities that are accessible, individuals thrive and find joy in the experience. People with dementia can create, imagine, and have fun.
Most importantly, isolation is a large contributing factor to increasing the pain and difficulty of having dementia. Our programs are designed to decrease isolation and increase socialization with community support.
We thank these organizations for their kind and continuous support.